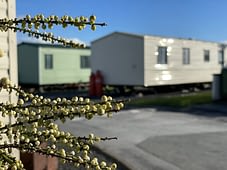 Facilities include a  heated, indoor swimming pool (open from Easter to the end of October) and licensed lounge bar. During the main season the bar hosts occasional live entertainment. The park is wheelchair friendly. Free Wi-Fi is available as well as a premium paid-for service.
Off-site you will find some of the most glorious countryside in Britain, and the highest concentration of award-winning beaches in the UK.
What makes Cambrian Coast so special is the location, surrounded by a nature reserve and close to Borth's championship 18-hole links golf course. Borth boasts one of Ceredigion's longest and most golden beaches. Because of its shallow waters, the beach is particularly popular with sailboard enthusiasts and families with younger children. There are superb walking, kite flying, kite and windsurfing opportunities.
Ynyslas Beach & Dunes is home to rare plants and insects. Nearby is the thousand-acre Ynys Hir RSPB Nature Reserve, set in a stunning location in the Dyfi Estuary, with the Cambrian Mountains as a backdrop. For Hire – Fully equipped, self-contained holiday caravans, with colour television, gas and electricity all included in the tariff. Duvets, pillows and bed linen are provided. You need only bring personal linen and towels. Towels are available to hire, you can book these either online or over the phone.
Cambrian Coast Caravan Park –  Site Regulations
(These are the Regulations are set out by Cambrian Coast Caravan Park and do not form part of the Terms and conditions of County Holidays limited and/or the Caravan Owner. For terms and conditions of booking please CLICK HERE)
Overcrowding is not permitted and the accommodation shall be used only by the number of guests given when booking the holiday. Day visitors, when permitted, must register at reception and pay (if required) the appropriate day visitor charge.
Group bookings – the company does not accept group bookings or single-sex bookings. The lead name on the bookings must be over the age of 21 years.
Reception is open daily from 9am to 5pm.
Only the people listed on the booking can occupy your accommodation and use the facilities of the park. If this legal requirement is not met, your booking will be terminated and you will be asked to leave, with no refund made. If you have any friends who wish to visit you while you are staying with us, please see the park manager who will arrange a day pass for them.
Dogs must be kept on a short lead at ALL times and, with the exception of assistance dogs, are not allowed in any building. Owners are responsible for their behaviour and must ensure that pets are not left in caravans unattended. Should a dog be a nuisance at any time, the site owner reserves the right to have it moved immediately.
We ask that dog owners exercise their dogs off the park whenever possible and away from designated play areas or where there may be children playing. Any fouling must be cleared up immediately. Many areas of our parks are covered by CCTV cameras and any persons seen not clearing up after their dogs will be asked to leave the park.
Children remain the responsibility of their parents or guardians at all times and must be properly supervised throughout your stay. Please make sure children are familiarised with the park upon your arrival and you know where they are at all times. They must not be left unattended or without adequate supervision in caravans or elsewhere.
Cambrian Coast has a railway line which passes through the park entrance. Please ensure that children are made aware of the dangers of railway crossings and are not be allowed to play near the crossing. Any signals or alarms must be adhered to. You should not attempt to cross the line when the barrier is lowered.
Infectious or contagious diseases could easily be passed to other guests while on holiday. You must inform the Duty Manager should you contract any such illness while on holiday. In order to protect our guests and staff, anyone found to have such a condition may be confined or requested to leave the Park. Please note that in such circumstances we are unable to offer refunds and we, therefore, recommend you take out your own holiday insurance.
The company makes every effort to maintain all amenities and entertainment advertised but shall not be liable in the event of their non-availability. Should accommodation not be available